With 3,000 experts mobilized under its after-sales service and nearly 2.1 million service calls carried out in 2021, Fnac Darty is the French leader in repairs.
Darty MAX
Repairing a product means delaying its end of life and therefore reducing the amount of waste, but also reducing the ecological impact of manufacturing its replacement. Repairs also represent jobs that cannot be relocated and an economic equation that is increasingly favorable to the customer.
Based on this observation and in order to remove the obstacles to repairs, particularly the cost, Fnac Darty launched "Darty MAX" in 2019, the first repair subscription service, which makes it easy to repair rather than replace, with no limit on the number of appliances, breakdowns or age, as long as spare parts are available.
This innovative service includes remote support, diagnostics, labor and the replacement of faulty parts for any appliances purchased from Darty or elsewhere.
Darty Max also includes maintenance advice, assistance for device usage and priority access to home call-out services and phone support.
Initially dedicated to large domestic appliances, in 2021 it was extended to small domestic appliances and multimedia.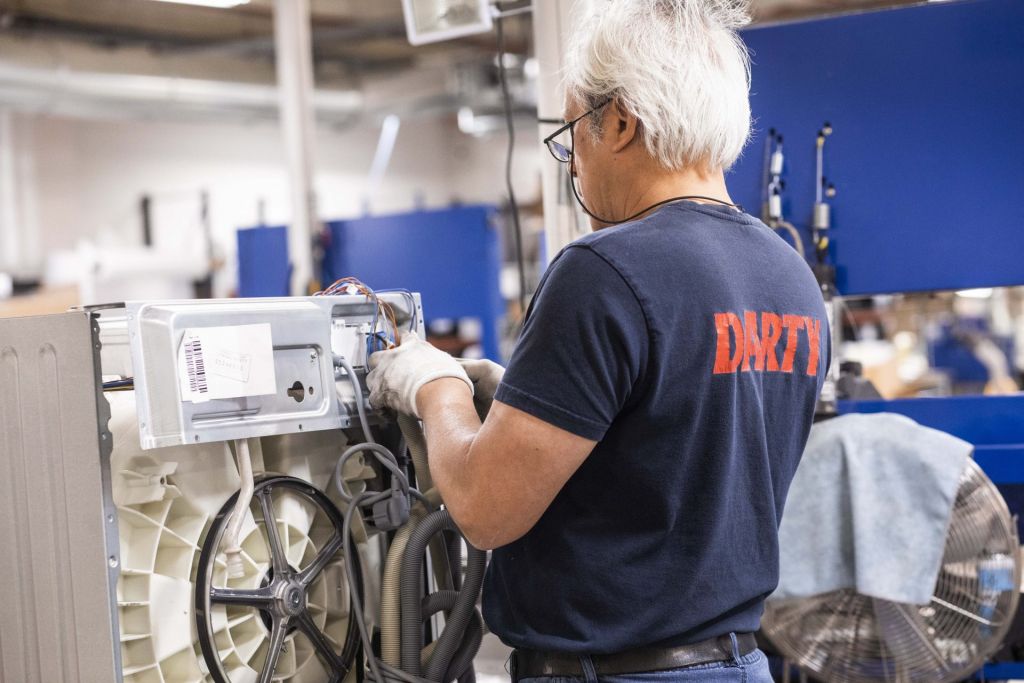 WeFix
While around three quarters of the environmental impact of a smartphone is linked to its manufacture (source: Ademe), extending the life span of these electronic products is a major lever for reducing this impact.
Since 2018 and the acquisition of WeFix, a smartphone fast repair specialist, Fnac Darty has been offering smartphone repair and protection services, and has been involved in the sale of refurbished phones.
At the end of 2021, WeFix had 139 points sales/repair outlets in France and Belgium.
WeFix technicians repaired more than 200,000 smartphones in 2021, which represents approximately 30 metric tons of electronic waste avoided.
The after-sales community
With over 2 million products repaired each year, our After-Sales Service teams have built up a formidable knowledge base over time. Since 2018, some of this information has gradually been shared publicly on sav.darty.com.
An everyday tool designed to extend the life span of products, the After-Sales Service Community is a collaborative site that allows Internet users and Fnac Darty technicians to share tips on how best to use, maintain and repair different products. In 2021, site traffic exceeded 10 million hits!
The site provides maintenance and repair tutorials, manuals, customer feedback, more than 620,000 answers to 115,000 questions that can be consulted without any time restrictions and the assistance of eight Darty experts to confirm the technical accuracy of the answers provided by the community.