Jean-Baptiste Andrea has been named winner in the twenty-second edition of the Fnac literary awards for his novel Veiller sur elle (Watch over Her), published by Éditions de L'Iconoclaste. The author follows in the footsteps of Sarah Jollien-Fardel, who won over the jury in 2022 with Sa préférée (The Favorite) (published by Sabine Wespieser Éditeur).
Comprising 400 Fnac members and 400 Fnac booksellers, the Fnac literary awards jury first selected five finalists from the 30 books longlisted for this year's prize:
— Veiller sur elle (Watch over Her), Jean-Baptiste Andrea — ÉDITIONS DE L'ICONOCLASTE
— Les silences des pères (The Silences of Fathers), Rachid Benzine — SEUIL
— Ce que je sais de toi (What I Know about You), Éric Chacour — PHILIPPE REY
— Vous ne connaissez rien de moi, (You Know Nothing about Me), Julie Héraclès — JC LATTÈS
— Le grand secours (The Great Rescue), Thomas B. Reverdy — FLAMMARION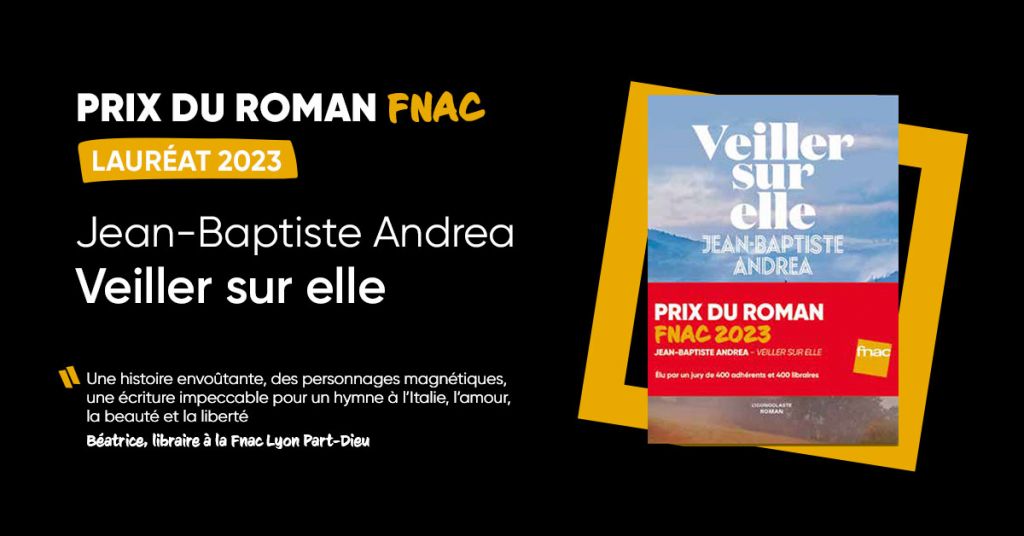 This year, Jean-Baptiste Andrea's fourth novel stood out for its « characters that ring true, broken destinies, everyday phoenixes that make every page utterly captivating » says Margaux, a bookseller at Fnac Libourne. For Béatrice, a bookseller at Fnac Lyon, Veiller sur elle « is impeccably written, an ode to Italy, love, beauty, freedom […] ».
Veiller sur elle is a novel that immerses "the reader in twentieth century Italy, through the two world wars and the rise of fascism. Alongside Mimo, we encounter every facet of this Italy: the authority of the powerful and wealthy, the authority of the papacy and the patriarchy."
The Prix du Roman Fnac marks the start of the literary season every year. Over time, it has become as a highly anticipated prize that sets the trend, solidifying the crucial role of Fnac in the literary world.
Jean-Baptiste Andrea will receive this prize at a special awards ceremony to be held on September 11 at the Théâtre Edouard VII in Paris.